The Enchantments, WA – Planning – Part II
by Chef Corso
Pack it up
The day before we left, I went shopping. I created a master shopping list for all recipes and broke it down into sections of the store (produce, middle of store, other) I'm also creating a personalized snack-pack for everyone which includes coffee/tea, bars, nuts, jerky, other snacks.
Some may look at this menu as say, "well, I'm never going to do that. That's too much work."
I will say it does take some time to plan but it's all well worth it when your halfway into some garlic mashed potatoes after hiking 10 miles or some super satisfying wonton dumpling bowl while looking at a massive peak. It's also a way to show your friends or family that you really care.
I'm hear to tell ya you can do it. I would rather take this time than suffer through packaged meals for 4 days and 3 nights.
If you're curious about how much all this cost and total weight, scroll down to the bottom.
Full menu
DAY 1
Brekkie Tacos, Banana Bread
Meat, Cheese, Bread, Pickles @ Car
Garlic Mashed Potatoes / Cuban Black Bean Soup w Plantain chips
Bag of Wine
DAY 2
Dirtbag Eggs Benedict
Kale Caesar / Chili Lime Popcorn
ASIAN NIGHT: Mango Fried Rice / Wonton Dumpling Bowl / Warm Sake
Dates/Figs Candied Pecans
DAY 3
Morningstar Breakfast Scramble
Moroccan Cous Cous / Meat-Cheese-Bread
Shitake Sesame Noodles w Tofu
Berry Marshmallow Fondue with Brown Brittle
DAY 4
Tropical Oatmeal w Macadamia Nuts
Snacks
After shopping, I packed up all ingredients according to each recipe.
Here is what it looked like. Keep in mind, this is for 4 days, 3 nights, 4 people.
Which then packed up into this:
Pre-packed personalized Snack-Packs
Great idea so no portioning or fighting over snacks. Each person has their own and they can eat as they like.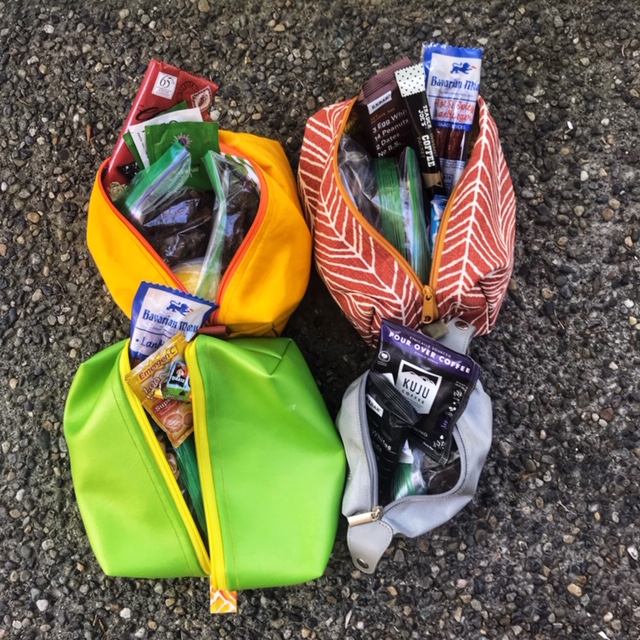 Post trip bevis / snacks
I also packed up a cooler to leave in our car for after hike beverages and snacks.
Coconut water, water, fizzy water, Prosecco and negra modelo w limes.
I cannot stress this step enough. Did it stay cold for 4 days? Sure did and tasted SO GOOD after our long last day.
A little pre-planning goes a long way. Your future self will thank you.
Clothes – Corso
Yes, you need clothes.
Yes, you need layers.
But most of the time, you don't wear everything you bring.
I went as minimal as I could do because I'm fine wearing something for a couple days.
Here's my clothes list:
Sox – 5 pair

T-shirt, performance – 3

T-shirt, long sleeve – 1

Midlayer – 1

Rain jacket

Hat

Warm Hat

Undies – 3

Pants – 1

Shorts – 2

Swimsuit – 1

Bando

Hiking Boots

Belt

Small Towel

Clean change of clothes for the car
For your next trip, always check the weather to help guide your list as you may need more layers for the top or bottom.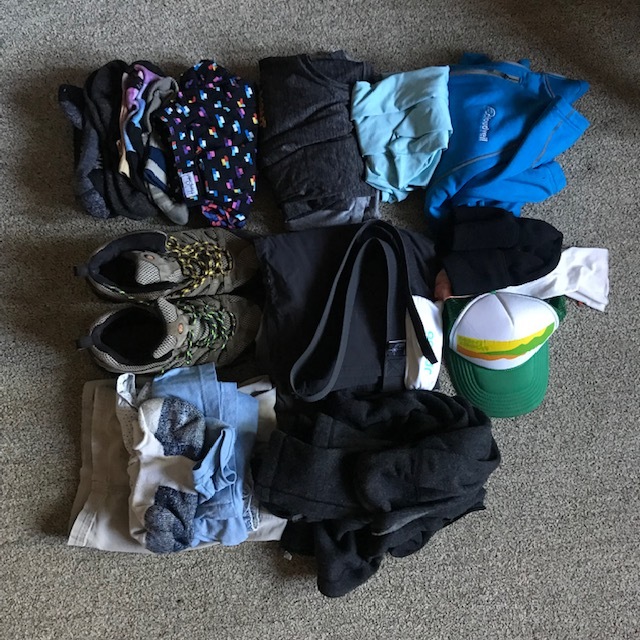 Clothes – Belosho
Pants – 2

Long shirt – 1

Tank -2

Midlayer – 1

Sox – 5

Sports Bra – 2

Undies – 4

Swimsuit – 1

Vest

Rain jacket

Warm Hat

Bando – 1

Hiking Boots

Small Towel

Clean change of clothes for car
After all the planning, lists and packing, we're ready.
We can all divey up the weight when we get to the trailhead.
WE'RE READY AND EXCITED TO GET GOIN
Stay tuned for day-by-day trip logs in Part III and IV.
---
Total cost & Total weight
The whole Outdoor Eats menu cost was around $250.
This is including snacks, all recipes for 4 days and post hike drinks/snacks.
If we purchased all packaged meals, it would total around $500 ($5 for breakfast, $10 for lunch, $10 for dinner, $5 for snacks)
Packaged Menu – If we purchased all packaged meals
Math says that:
$125/day
$31.25/person per day
$10.42 / per meal
Outdoor Eats Menu
Math says that:
$62.50/day
$15.63/person per day
$5.21 / per meal
I'm not sure, but math and my belly says that cooking with fresh food is not only easy and tasty, but IT'S ACTUALLY CHEAPER than packaged meals!
Packed Weight:
TOTAL: 25 lbs
TOTAL PER PERSON: approx 6.25 lbs
Outdoor Eats Weight:
TOTAL: 45 lbs
(no water included as we could pump along the way)
TOTAL PER PERSON:11.25 lbs
Packaged meals are VERY light and packable as that's what there are meant for.
Up to you if you want to carry a few extra pounds for a better and tastier experience.
bocaboca
Categorized in: How-To Cooking, Journal, Packing / Equipment